January Insights
January was a strong month in the market. The ASX200 index has risen approximately 7%. Short-term market movements are unpredictable given the confluence of many variables. In the last quarter of calendar year 2022, the perceived risks to the market led to a discount in share prices, as sellers gravitated to cash and investors sought improved compensation for the potential loss of capital.
If 2022 taught us anything, it was that a robust investment strategy and a long-term time horizon provides the best opportunity for a favourable investment outcome. Whilst it is important to be cognisant of economic and market issues, the best course of action is to be aware of the macro issues but focus on the medium-term issues which may impact the businesses in one's portfolio. This should lead to lower portfolio turnover.
No doubt 2023 will provide another long list of nerve-rattling moments, which may or may not transpire. The reason that equities outperform nearly all other asset classes (especially on a risk/return basis) is due to the discounts applied for downside risks.
More often than not, the risks are to the upside – as seen on long-term market charts.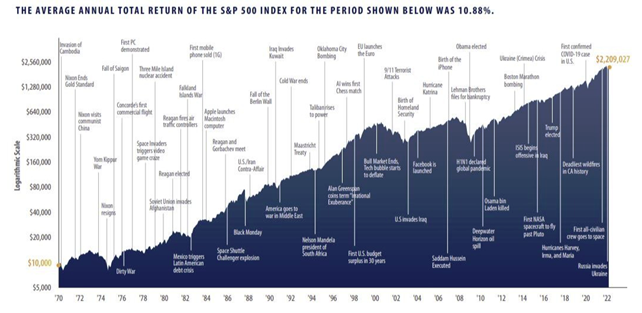 Source: https://www.petersfinancial.us/blog/markets-in-perspective
Established, high quality corporations have proven adept at growing earnings through investment cycles. These are the businesses we gravitate towards.
We look forward to a productive year ahead, and hope that all readers have a prosperous 2023.
Alex Leyland