The past month has been disruptive for many readers, who have been subject to lockdowns. We hope you have been managing well during this period.  
An eagerly anticipated reporting season commences in August, with most ASX listed companies reporting FY21 numbers. We anticipate robust earnings results reflecting the 'V-shaped' recovery of the economy given (1) the low base of FY20 against which to compare, (2) government fiscal stimulus, (3) central bank monetary stimulus, and (4) a generally robust economic backdrop and commodity prices.  In fact, company earnings have been growing for the past 9 months, and now sit above pre-COVID levels.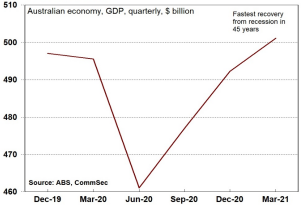 Of particular interest will be the outlook for future earnings, especially given the lockdowns in Sydney and Victoria, and rising cost pressures. The vaccine provides what appears to be a light at the end of the tunnel, although extended lockdowns will temper enthusiasm.  
Markets are forward looking, and forecasting a strong earnings period as witnessed by the largest ever capital inflows into equity funds.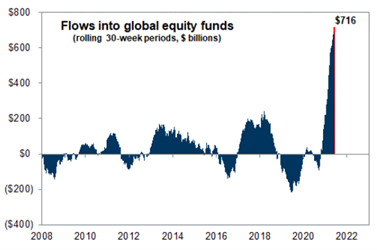 Current economic settings are supportive of company earnings, and it is these earnings which drives share prices over the longer-term.